Dialogic Confession: Bonhoeffer's Rhetoric of Responsibility
Published by
Southern Illinois University Press
in
2005
Ethics
Published by
Touchstone
in
1995
Conspiracy and Imprisonment
Published by
Fortress Press
in
2006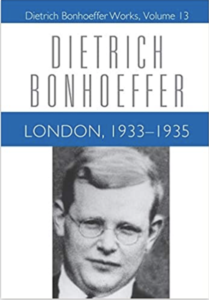 London 1933–1935
Published by
Fortress Press
in
2007
Dietrich Bonhoeffer: An Introduction to His Thought
Published by
Hendrickson Publishers
in
2007
The Bonhoeffer Phenomenon: Portraits of a Protestant Saint
Published by
Fortress Press
in
2004
The Bonhoeffer Legacy: Post-Holocaust Perspectives.
Published by
Fortress Press
in
2006
Bonhoeffer As Martyr: Social Responsibility and Modern Christian Commitment
Published by
Brazos Press
in
2004
Authentic Faith: Bonhoeffer's Theological Ethics in Context
Published by
Eerdemans
in
2007
In September of 1930, the German theologian and pastor Dietrich Bonhoeffer arrived in New York for his first visit to America. As a teaching fellow at Union Theological Seminary, the young Bonhoeffer spent the next year meeting colleagues like Jean Laserre, a French pacifist, and Frank Fisher, a black seminarian who introduced Bonhoeffer to Abyssinian Baptist Church in Harlem.
Bonhoeffer had recently completed his Habilitationschrift, which was published later under the title Act and Being. In 1927 Bonhoeffer had penned the text for his licentiate degree, a study of the sociality of the church, Sanctorum Communio, under the direction of Reinhold Seeburg. These texts represent the major sources for Bonhoeffer 's early academic period, which concludes effectively upon his trip to the United States in 1930.
Looking back on his experience in America, Bonhoeffer would refer cryptically to a sort of conversion experience, a turning toward the biblical text in a radically new and authentic way. In some ways, then, Bonhoeffer 's first trip to America determined the course of the next decade of his life, which is characterized by an increasing focus on the church as opposed to the academy. This increasing commitment to the life of the church in both the German and ecumenical contexts controls how Bonhoeffer viewed his second visit to the United States in the early summer of 1939.
This visit was brief, and had been arranged by his friends in America and encouraged by his associates in the German Confessing Church. Bonhoeffer 's unwillingness to serve if drafted into the German military had the potential to negatively impact the cause of the Confessing Church, since the execution of a conscientious objector affiliated so closely with the Confessing movement would only rei-force the view that opposition to the Nazi church was anti-patriotic and disloyal.
So in some ways Bonhoeffer 's second trip to the United States can be seen as a sort of a self-imposed exile. Almost immediately upon arriving in New York, however, Bonhoeffer was tormented by doubt about the decision to leave Germany. His commitment during the previous decade to the struggle for the church had allowed him to identify intimately with the persecution of the church and the suffering of his fellow Germans under Nazi oppression. "I have made a mistake in coming to America. I must live through this difficult period of our national history with the Christian people of Germany," he wrote at the time. "I will have no right to participate in the reconstruction of Christian life in Germany after the war if I do not share the trials of this time with my people."1
Having made his decision that his role in post-war Germany could only be authentic given his solidarity with the suffering of the German people, Bonhoeffer returned to Germany right before the outbreak of the war. Although Bonhoeffer left America for the final time in 1939, his influence has grown rather than lessened over the course of the intervening years.
This essay will examine some of the more recent publications in Bonhoeffer studies, including newly available English translations of German-language scholarship,2 contemporary interpretations,3 as well as a comprehensive course of research surveying the landscape of secondary research on Bonhoeffer,4 concluding with a summary of developments in the massively important translation effort of primary sources.5 We shall find that the field of Bonhoeffer studies encompasses highly-variegated research programs, ranging from creative appropriations of Bonhoeffer's life and thought to well-founded and rigorous study of his historical and contemporary influence. It is not too much to say that in many ways and in many forms, Bonhoeffer is still with us.
Found in Translation
For the first decades after Bonhoeffer 's death, a dearth of materials readily available in English, whether primary or secondary in nature, contributed to an unbalanced assessment of Bonhoeffer's thought, focused especially on his fragmentary and unfinished writings from prison. Over time, systematic and methodically sensitive approaches to Bonhoeffer 's work have done much to provide a more historically balanced and contextually accurate account. On the one hand this has been occasioned by the research of English-language scholars who have paid greater attention to the entirety of Bonhoeffer's theological corpus. But on the other hand, the increasing availability in translation of high-quality German-language scholarship has helped to broaden out the discussion beyond the insular borders of English-language theology.
Eberhard Bethge's monumental achievement in the publication of his biography of Bonhoeffer, both in its first and later revised forms, served as a watershed moment in moving English-language studies of Bonhoeffer out of a speculative ghetto. As Bethge wrote in the preface to the first English edition of the biography," The early understanding of Bonhoeffer was distorted and exploited by modern theological formulations."6 The translation of Sabine Dramm's work by Hendrickson Publishers is one of the most recent of these studies following the trail blazed by Eberhard Bethge. Originally published in 2001, Dramm's Dietrich Bonhoeffer: An Introduction to His Thought is a welcome addition to an already vast array of texts aimed at providing initiation into the field of Bonhoeffer studies.7 As might be expected, German-language scholarship tends to be more intimately aware of the developments of the secondary literature in its native tongue, as is also the case in corresponding English-language studies. One virtue of translation of these studies into English is that such works can help not only to introduce Bonhoeffer's thought, as is the primary intent, but also to introduce the contemporary state of German-language scholarship. Dramm's study is helpful in both regards.
Dramm's book provides a carefully contextual introduction both to Bonhoeffer's life as a whole and to each of his major individual works. This focus on each of the texts' Sitz im Leben provides an essential part of the antidote to ahistorical appropriations of Bonhoeffer's thought. Dramm is careful not to let the excesses of some of the more radical interpretations of Bonhoeffer drive her work into a constricting straightjacket. A foundational methodological assumption of her study is that "Dietrich Bonhoeffer 's thought is found both in his books and, perhaps even more extensively and comprehensively, in the many (and many-sided) writings preserved outside the body of his finished and planned books."8 Each student of Bonhoeffer's theology needs to grapple with the question of how to relate his early academic work to his middle period focused on ecclesiastical and ecumenical concerns, and how each of these relate to his final period of active political struggle and resistance. Dramm provides not only a plausible case for her particular relation of each of these concerns but also a laudable example of how such theories of the architectonic structures of Bonhoeffer 's thought can be worked out in the study of particular texts.
Any introductory text to Bonhoeffer 's life and work that is not to run to the lengths of a massive work like Bethge's biography must sacrifice exhaustive detail in the search for more generally applicable themes. Thus, Dramm provides a helpful but self-consciously oversimplified insight when she writes, "Bonhoeffer's whole theology is Christology."9 Even so, Dramm does not shy away from the aspects of Bonhoeffer's life that have provided some of the most interpretive difficulties. In her treatment of his relation to the Abwehr conspiracy and its attempts to assassinate Hitler, for instance, Dramm provides some assistance in coming to a more precise understanding of the choices facing Bonhoeffer, in contrast with some other recent treatments.10 Dramm judges the situation in this way:
The dilemma Bonhoeffer faced was that he would incur guilt not only if he stood idly by as a spectator of violence but also if he participated even indirectly in putsch plans, violence, and concrete actions designed to take human life while in the guise of an agent of military intelligence.11
This episode of Bonhoeffer 's life is perhaps his most famous, and for that reason alone is worthy of extensive and responsible scholarly exploration.
Another example of a fine contribution to the literature in translation is Heinz Eduard Tödt's Authentic Faith: Bonhoeffer's Theological Ethics in Context. This text consists of a series of essays written by Tödt that was published posthumously in 1993.12 The recent English translation curiously omits one chapter from the original, which the editor of the English edition, Glen Harold Stassen, says "focuses on euthanasia and human rights during the Third Reich."13 Arranged in thematic rather than chronological order, the essays cover roughly a fifteen-year period during the height of Tödt's mature lifelong study of Bonhoeffer. Tödt served as chair of the editorial board for the authoritative German critical edition of Bonhoeffer's works, which form the basis for the corresponding English-language series.14
The main strength of Tödt's essays is their consistently coherent picture of the major continuities that endured throughout Bonhoeffer 's life. Against readings of Bonhoeffer that play one part of his life against another, Tödt argues that convincingly "Bonhoeffer 's theological outline does have a strong continuity in it, from its beginnings to the end. In Bonhoeffer 's theology there does exist a stringent connection between Christology, ecclesiology, and ethics."15 Thus, when a writer like Dramm notes that Christology is central to Bonhoeffer 's theology, this is a statement that has immediate implications not just for that doctrine, but for other theological topics, and indeed, for other theological disciplines. Tödt helps his readers to understand that the recurring question at the heart of Bonhoeffer 's theological life, "Who is Jesus Christ for us today?" is not only a doctrinal question but also one with clear ethical content, a point certainly not lost on anyone who has read Bonhoeffer's classic Discipleship.16
It is also the case that we must examine what precisely it means for Christology to be the "center" of a particular figure's theology, especially when the answer has so much relevance for our understanding of the relationship between various theologians and their legacies.17 Thus, it is insufficient simply to point to Karl Barth and Dietrich Bonhoeffer as "Christocentric" theologians and therefore as representatives of a "neo-orthodox" school. Tödt takes on this critically important questionfor understanding Bonhoeffer 's theological significance when he examines the relationship between Barth and Bonhoeffer. As opposed to some commentators who understand there to be either no significant theological difference between the two men, or who understand the difference to lie in their relationship to liberal Protestant theology, Tödt nails the fundamental question when he writes, "the point at issue between Barth and Bonhoeffer is the understanding of revelation."18
In his exposition of the disagreement between Barth and Bonhoeffer on revelation, Tödt provides one of the most lucid explanations I have seen about Bonhoeffer's understanding of the natural and how it relates to his theology:
What is natural is not obvious, but rather is obscured and hidden; it must first be experienced and recognized. Faith sees the penultimate in its proper place, and is able to set free a true experience of the natural. But it also happens that "reason" and the "basic will of life," while both remain embedded in the natural, lead to a conscious perception of the natural as it is given, and objectively indicate that the reality of the world is borne by God.19
In this brief passage, Tödt provides a way clear of the decades of misunderstanding that have arisen from ill-advised attempts to fit Bonhoeffer 's Christological ethics onto the Procrustean bed of a preconceived "Barthian" orthodoxy.
An especially noteworthy portion of Tödt's work is his leadership of a research program dedicated to understanding the sociological and historical contexts of the Abwehr conspiracy. His fifty-plus page "interim report" on the findings of his research project show a keen sense of the need for a methodologically responsible approach to parsing out the social and religious motives for those who sought a violent overthrow of Hitler 's regime. Moreover, his considerations of the characteristics of "the Bonhoeffer-Dohnanyi circle" belie any easy account of Bonhoeffer's involvement as the triumph of apostasy and faithlessness, but rather as an authentic expression of his Christian faith. As Tödt writes, "In order to acknowledge one's own entanglement in guilt one needed a freedom the source of which Bonhoeffer saw in faith – faith in God who calls for responsibility and promises forgiveness."20
The translation of Tödt's work into English provides important access to the conclusions of an expert in the prime of his analytic and critical engagement with Bonhoeffer's theology. Both Eerdmans and Hendrickson have done English-language Bonhoeffer scholarship a great service in making these two works readily available.
Confession and Martyrdom
The increasing availability of works in German both by and about Bonhoeffer has not eradicated the more speculative and historically doubtful methods employed in the first few decades after his death. But the return to the sources in Bonhoeffer studies has generally forced such works to be more explicit about their relation to Bonhoeffer's thought.
Ronald C. Arnett's Dialogic Confession: Bonhoeffer's Rhetoric of Responsibility is upfront about such methodological commitments. He writes, "This work does not claim authorial intent of Bonhoeffer but rather claims that there is a story of communicative implications of Bonhoeffer 's work that provides a model for a constructive hermeneutic meeting a world of difference from a narrative of conviction."21
Arnett's constructive task is to interpret and apply the insights from Bonhoeffer's life to a contemporary postmodern context. Arnett does this by focusing on particular themes in Bonhoeffer 's thought, particularly the importance of his method of communication. So, for instance, Arnett writes, "Bonhoeffer 's greatest insight rests not in what he said, but in engagement with the situation that provides an example for meeting a changing historical moment as a religious communicator."22 Bonhoeffer stands as an exemplar of how to come from a serious faith commitment and dialogue responsibly in the public square.
One strength of Arnett's treatment is that it identifies the basic structures of the postmodern moment adequately and succinctly. That is, Arnett understands both the continuities and the discontinuities between modernism and postmodernism. With regard to the former, Arnett writes that in some sense, postmodernism can be seen as a radicalization of the individualism of the modern project. Where the subjectivity of the postmodern scheme becomes relativized completely and individually, Arnett is right to conclude, "For many, the alternative to a sense of place is attentiveness to the self. Yet this move is but another form of provinciality, the notion of 'self.' The self becomes a modern sense of place, offering a 'hometown advantage' of one!"23 It is in this sense that postmodernism can be seen as ultra-modern.
But the emphasis on notions like narrative, dialogue, and encounter are novel characteristics of postmodernity. Arnett is also right to recognize that "postmodernity is not an era without narratives, but an era with multiple and competing narratives. A recognition that persons are unable to stand above history, but are embedded within narrative structures and therefore bereft of a transcendental glimpse at truth, defines communicative life in postmodernity."24 Between a defunct traditionalism and an untenable relativism, Arnett sees Bonhoeffer as offering a "third alternative of responsible engagement of a faith story with a given moment," a mediating position between two extremes.25 Among the virtues of Arnett's work is that it diagnoses problems appropriately in the current situation. He also does justice to Bonhoeffer 's religious and theological commitments, recognizing that they rest on foundational principles and presuppositions, a "Christocentric faith."26 And although he does not make the connection explicitly, Arnett's construal of Bonhoeffer in prophetic terms properly recognizes Old Testament themes, like the "remnant," that echo in Bonhoeffer 's life. So in his devotion to Scripture, Bonhoeffer "connected himself to a counter narrative," a position that maintains "alternative insights" in the face of a dominant public narrative.27
In spite of these significant virtues, Arnett's work is marred by some notable flaws. His emphasis on Bonhoeffer 's methods rather than the content of his communication runs the serious risk of corrupting the rather incredible coherence between Bonhoeffer 's thought and practice, his faith and his deeds. An example is in Arnett's appropriation of the theme of confession in Bonhoeffer's thought. For Arnett, confession is to be understood as primarily the positive public statement of beliefs, "confession of a given narrative position—a responsive Christocentric worldview."28 It is true of course that typically the Christian church has understood confession in this positive sense, and indeed it does function this way for Bonhoeffer, especially in the question of the status confessionis and the Aryan clauses.
But this term has a number of uses and meanings, not all of which are captured in the primary sense. For Bonhoeffer, confession focuses firstly on a confession of sin, both in terms of confession as a personal activity and as a corporate ecclesiastical action. So, in his essay on the Confessing Church and what he calls an "encounter" with the ecumenical movement, certainly Bonhoeffer felt that the church should stand up for the truth of the faith: "There is no other approach to the Confessing Church than through the question of confession. There is no possibility of common tactical action outside of the question of the confession."29 The Confessing Church is one that "confesses itself to be for its Lord and against his enemies."30
It is important to note that for Bonhoeffer, such a confession would only be authentic in the context of another kind of confession. The dialogue or conversation that Bonhoeffer outlines between the Confessing Church and the ecumenical movement focuses on these two forms of confession, the first positively "for its Lord," and the second, in the Confessing Church's situation, "a confession of sin."31 In not taking into account the various kinds of confession in Bonhoeffer's thought, Arnett hazards overlooking both sides of the dialogue between the Confessing Church and the ecumenical movement, and even between man and God.
So when Arnett concludes, "in postmodern communication, the act of confession may be the only commonplace between persons from quite different standpoints. It is not the content of confession, but the act itself that becomes a communicative penultimate commonplace," it becomes clear that the content of confession determines in part the significance (and the direction) of the act.32 Confession as merely a horizontal act between human beings gives us a severely truncated picture of Bonhoeffer 's thought (and his potential contribution).
Arnett's work is promising because it does see some of the important ways that Bonhoeffer's thought presaged developments in twentieth-century theology: the notion of a world come of age signaled the beginning of what we now call a postmodern moment. Bonhoeffer understood that the shifting world could no longer assume religion as the background narrative. Now we can no longer assume anyone narrative as a common background.33
Although Bonhoeffer saw with great prescience the implications of a "worldcome of age," there is a great deal of important work that needs to be done to bring his insights to bear on the world at the dawn of the third millennium. Arnett has done a good deal to advance this discussion, but it is difficult to see how much more insight we can have without greater attention to the actual dialogues and conversations in which Bonhoeffer engaged. That might be the only way to move beyond the "intentional lack of precision" residing in Arnett's interpretive foci.34
Whereas Arnett takes "dialogic confession" as the point of constructive departure in his study on Bonheoffer, Craig J. Slane uses another rubric to interpret Bonhoeffer's life and thought in his Bonhoeffer as Martyr: Social Responsibility and Modern Christian Commitment. As a self-consciously "theological" interpretation, Slane's course of study is perhaps the best suited of any methodology to really uncovering the significance of Bonhoeffer 's most intensely "theological" life.35 Debates about the status of Bonhoeffer's death and how it ought to be understood in relation to his Christian faith have surrounded Bonhoeffer 's legacy since the times immediately following his execution. More than thirty years ago, Eberhard Bethge wrote a study that included significant sections dealing with Bonhoeffer and the modern relevance of martyrdom.36 Although it does not draw on this specific piece of Bethge's (it does refer to other pertinent works by Bethge), Slane's book can be viewed as an updated continuation of this long conversation in Bonhoeffer studies.
The uniqueness of Slane's contribution lies not only in his contention that martyrdom provides new interpretive insight into Bonhoeffer's life and work, but also in the implications for the modern world on the concept of martyrdom itself. So while a major focus of the work is Dietrich Bonhoeffer, Slane is also concerned to chart out what he considers to be "a phenomenon whose connections to the created order—political, social, and ethical—are being illumined as never before."37 This is a prescient claim on at least two levels.
Observers from Bethge to Slane are correct in noting that the occasions for suffering and martyrdom in the modern West are far different than they have been in the history of the church. While today there are some more direct similarities between persecuted Christians in other parts of the world and the more violent and virulent strains of persecution felt first by the early church (as the experience of Christians in countries like North Korea and groups like the Voice of the Martyrs remind us), the privileged position which Christianity occupies in Western civilization has largely inoculated it from such concerns. Beyond the obviously compelling concerns for solidarity with our persecuted brethren in the contemporary global situation, Slane makes a convincing case for why martyrdom is a reality that has ongoing relevance for Western Christians by both expanding and deepening the meaning.
Slane accomplishes the latter by examining the history of martyrdom and bringing it into conversation both with the biblical texts and with broader theological developments. Slane argues that we should consider martyrdom to be an "epitomizing expression" of "what might be called a Christian theology of death."38 The multivalent texture of signs like death, life, mortification, and vivification and their relationship to justification and sanctification make for a rich foundation for reflection on martyrdom's relationship to the whole of Christian experience.
A Christian theology of death certainly must include consideration of the why of death. The Heidelberg Catechism gives in compelling seminal form an answer to the question, "Since Christ has died for us, why do we still have to die?" The catechism reads, "Our death does not pay the debt of our sins. Rather, it puts an end to our sinning and is our entrance into eternal life."39 Meditation on the complex relationship between Christ's death and our own leads Slane convincingly to conclude, "the free act of martyrdom has the power to sum up one's whole existence as Christian."40 By deepening the grounding of martyrdom in Bonhoeffer's own thought, Slane makes a noteworthy contribution to a Christian theology of death.
Martyrdom, though, is not only about death. A second major theme of Slane's evaluation of martyrdom is manifested in the broadening of the concept beyond what traditionally have been rather tight ecclesiastical borders. An overemphasis on death, whether the manner or the conditions under which death has been met, can lead to a distortion of what martyrdom is truly about. Martyrdom as a theology of death is invalid "if we overlook the fact that death, however important as the final episode of an individual life, represents precisely the completion of a life. What is really at issue for us is the life whose end evokes the appellation 'martyr.'"41 The "life" of a martyr involves the Christian engagement with all the spheres of human existence: the family, the culture, the church, and the government.
It is only appropriate, then, to think about the ways in which Christian martyrdom is relevant to spheres beyond the institutional church. Bonhoeffer himself had contended that a defining "feature of modern martyrs" would be "blood stained with guilt," by which he meant that modern martyrs would not necessarily die for the institutional church as representative of Christ.42 Indeed, Bonhoeffer "apparently believed it was worthwhile for a Christian to die for the sake of worldly freedom, thus challenging the older notion that a martyr had to die exclusively for the sake of Christ."43 In defending a broader conception of martyrdom, Slane's case must bear the burden of showing just how the Christian faith can be understood to sometimes require death for ostensibly "worldly" causes.
But there are some compelling reasons to think that the broadening of the concept is a valid and perhaps even necessary theological construction. Bonhoeffer's own doctrine of the ethical mandates subsumes each of the institutions (marriage/family, culture/work, church, and government) under the ultimate lordship of Jesus Christ, an ordering that shares some similar features with Dutch neo-Calvinist thought.44 Moreover, there is some precedence in the thought of the Reformation, which was so fundamentally important for Bonhoeffer, for an expanded understanding of martyrdom.45 John Calvin wrote,
I say that not only they who labor for the defense of the gospel but they who in any way maintain the cause of righteousness suffer persecution for righteousness. Therefore, whether in declaring God's truth against Satan's falsehoods or in taking up the protection of the good and the innocent against the wrongs of the wicked, we must undergo the offenses and hatred of the world, which may imperil either our life, our fortunes, or our honor.46
Upon the basis of these and other similar themes found in the Reformation era regarding persecution, suffering and martyrdom, it could be argued plausibly that an expanded understanding of martyrdom indeed is consistent with and even entailed by a Reformation world- and life-view.
Slane summarizes it this way:
Martyrdom is a circumlocution of sorts for the quite personal and fatal consequence of the ontological collision between the kingdom of God and the kingdoms of this world. As a collision of kingdoms, martyrdom is, and has always been, rife with political overtones.47
If Slane is right about the utility of martyrdom as a rubric for understanding the Christian life, and I suspect that he is, then his study of Bonhoeffer's relationship to martyrdom, carried through in this book so well, is but one example of how the concept can be related to the life and death of every Christian.
The Bonhoeffer Effect
Both Arnett's and Slane's work represent ways, albeit very different ones, of attempting to come to grips with Dietrich Bonhoeffer's relevance for a situation many decades, many miles, and many wars removed from his own. The fact that there is a broad consensus that Bonhoeffer is relevant seems indisputable. Dramm refers to what she calls "the Bonhoeffer effect," an appreciation for Bonhoeffer in which "one generation relays the baton to the next."48
Stephen R. Haynes has written two volumes that ought to be read together as a comprehensive survey of the trends of this transgenerational "effect," which Haynes himself terms the "Bonhoeffer phenomenon." In the first volume, Haynes outlines a typology of the interpretations of Bonhoeffer in the secondary source material. He identifies four basic "portraits" of Bonhoeffer as seer, prophet, apostle, and bridge, associated in turn with radical, liberal, conservative, and universalizing theologies.
Haynes' purpose is to expose the extent to which each of these portraits has appropriated Bonhoeffer for its own purposes and therefore distorted his legacy in one way or another. The shared fault of each of these interpretations is that each "domesticates his legacy by placing it in the service of contemporary questions, needs, and concerns whose connection with his own time and place are sometimes tenuous and often more symbolic than real."49 In this way, each of the four positions outlined in Haynes' typology are not really legitimate interpretations of Bonhoeffer, but rather "appropriations," which seek "to capitalize on Bonhoeffer 's moral authority as a way of buttressing [their] claims to legitimacy."50
Haynes' second volume is a more extended look at one aspect of Bonhoeffer's legacy, specifically his usefulness as a theologian for post-Holocaust Jewish and Christian dialogue. For Haynes, the tendency to sanctify Bonhoeffer retrospectively presents problems in rightly understanding the complex nature of Bonhoeffer's usefulness on this score. Haynes writes that
the cost of failing to take seriously Bonhoeffer 's unfortunate and, frankly, embarrassing comments about Jewish destiny is inability to discern the continuities in his theology of Israel, and thus also failure to rightly gauge the prospects in Bonhoeffer for post-Holocaust theology.51
The prospects of using Bonhoeffer positively for post-Holocaust theology are ambivalent at best.
The typically positive understanding of Bonhoeffer 's utility is part of "a naive conception of the German Church Struggle built from superficial perceptions of saints and martyrs who stood for Christ and for Jews in the face of Nazi terror."52 For Haynes, the reality is that Bonhoeffer is part of a dominant Augustinian tradition within Christianity, that particularly in its exegetical practice is not to be judged innocent.
Haynes concludes that Bonhoeffer 's biblical interpretation, even his emphasis on the Old Testament, which was certainly a minority strain at the time, was continuous with "modes of Old Testament exegesis, dominant throughout Christian history, [that] have been linked during the last century to the Christian 'teaching of contempt' that made the Holocaust possible."53 Clearly the Christian influence in Germany was not sufficient to prevent the Holocaust, and there are elements in the Christian tradition that were appropriated easily for anti-Semitic social and political purposes, but it is insufficient to simply point to the classical Christian tradition as making the Holocaust "possible" without pointing to other ways in which religious rhetoric was exploited by the National Socialists.54
To be sure, there is no unanimity about Bonhoeffer 's view of Judaism, even among the brief scope of books under study here. Haynes concludes that "despite his insistence on the Old Testament's centrality for Christian faith, Bonhoeffer's christological focus made it difficult for him to acknowledge any salvific quality in postbiblical Judaism."55 Tödt, by contrast, contends that "Bonhoeffer, like Paul,holds firmly that Israel has a lasting significance for salvation history, and will come home to God, and he bases his thinking on the premise of a fundamental solidarity between the church and Israel. This cannot be labeled anti-Judaism."56 Haynes is right to argue that theological predilections for Bonhoeffer's theology should not color our historical and contextual understanding of his legacy. But this observation is valid both for overly positive assessments of Bonhoeffer as well as unduly critical judgments. Slane reminds us that
Bonhoeffer never sufficiently understood the complex interrelation between theological and racial anti-Semitism, certainly not in ways now obvious to us. We must remember, however, that Bonhoeffer was a Holocaust, not post-Holocaust, figure. However much or little he grasped this connection, the fact that he—a theologian—died in solidarity with Jewish suffering could be considered a kind of theological response in and of itself.57
In his laudable attempt to correct the excesses of Bonhoeffer hagiography, Haynes risks an overcorrection to the opposite extreme in not recognizing the original contributions Bonhoeffer made, which are even more notable when an appreciation of the theological landscape in Germany in the 1930s is taken into account.
The greatest strength of Haynes' studies is simultaneously their greatest weakness. The secondary literature on Bonhoeffer has grown to such a size that an effort to identify the strains in Bonhoeffer interpretation systematically is a worthwhile and important endeavor. Haynes has fulfilled this purpose masterfully. But Haynes' almost exclusive attention to the secondary literature threatens to carry over and undermine his attempt to provide a corrective to the mainstream interpretation of Bonhoeffer on the particular topic of post-Holocaust theology.
One the one hand Haynes is right to oppose the "domestication" of Bonhoeffer as an exploitation of his moral capital. On the other Haynes is wrong to think that critical examination of "the compulsion to make his life and times analogous to our own" is sufficient to correct such errors.58
Dietrich Bonhoeffer Works
There truly has been a renaissance in Bonhoeffer studies since the first appearances of his works in English. The fragmentary and unfinished nature of his prison works allowed for a great diversity of interpretation to arise. Tödt observes that these works "are experimental, unguarded, bold, trusting that the reader, the intimate friend, will understand, complete, and add more to thoughts that had remained unfinished in the shortness of time."59 We have noted that this role was filled largely by the work of Bonhoeffer's friend Eberhard Bethge, and despite Haynes' identification of Bethge as Bonhoeffer's "hagiographer," great work was done by Bethge to provide a greater selection of Bonhoeffer 's work beyond the late works to orient his English audience more properly.60
Part of Bethge's and Tödt's labors included their involvement in the publication of the monumental German-language critical edition of Bonhoeffer 's collected works, Dietrich Bonhoeffer Werke. Starting with the publication of the fifth volume in 1995, Augsburg Fortress began publishing English translations of the seventeen-volume collection. To date, thirteen volumes have been translated, edited, and published.
The publication of this series represents a major achievement in Bonhoeffer studies, as it offers definitive and exhaustive primary sources for the English-language Bonhoeffer student, including many of the previously-overlooked sources from his middle period. While the weight of early scholarly emphasis on Bonhoeffer's works focused on his prison notes, there was a second-generation reaction that emphasized both the continuity of Bonhoeffer 's entire corpus and laid primary foundational importance on his early academic work.61 While the move from overemphasis on Bonhoeffer's late works to the broad continuities of his thought is a welcome improvement, a corresponding overemphasis on his early works can also skew interpretation.
The theme of Bonhoeffer "in America" has been used in this essay to represent the appearance of both Bonhoeffer 's own texts and important German-language texts in translation, as well as the various strands of interpretation taken up among North American theologians. But Bonhoeffer 's two visits to America, for almost a year in 1930-31 and for just a few weeks in 1939, bracket what I understand to be the middle period in Bonhoeffer 's life and work.
The year 1931 essentially marks the beginning of Bonhoeffer's movement from a member of the theological academic faculty to a committed and struggling member of the church. Bethge writes, "those who met him after 1931 were impressed by his breadth of knowledge, his concentrated energy, analytical and critical acumen, as well as by his personal commitment that engaged his entire personality and his behavior in innumerable ways."62 These observations are attributed to "the result of the change in him, not the change itself. Only those who knew him well from earlier days were struck by the difference in him."63 Bethge notes that after 1931, "Bonhoeffer now regularly attended church…. He also practiced a meditative approach to the Bible that was obviously very different from the exegetical or homiletical use of it."64 This movement from academic theory to theologically informed practice is summed up in the following: "He no longer spoke of oral confession merely theologically, but as an act to be practiced."65
Bonhoeffer's own words testify to this shift, as he writes in a letter to his brother reflecting on his transition from an "academic" theology,
But I do believe that at last I am on the right track, for the first time in my life…. I think I am right in saying that I would only achieve true inner clarity and honesty by really starting to take the Sermon on the Mount seriously. Here alone lies the force that can blow all this hocus-pocus [i.e., the Nazi illusion] sky high—like fireworks, leaving only a few burnt-out shells behind.66
The years of 1931–1939 mark the middle period of Bonhoeffer 's life. Given the current state of scholarship, this period of Bonhoeffer's most prolific activity has been relatively under-studied. Initially, scholarship in general overemphasized Bonhoeffer's World War II works, and following Green has swung to the other extreme, reading all of Bonhoeffer 's later works as being present fundamentally or seminally in his earlier works, especially the pre-1931 works Sanctorum Communio and Act and Being.
There are several reasons for viewing the middle period of Bonhoeffer's career as having more relative methodological significance than either his earlier period (1927–1930) or his later period (1940–1945). As alluded to earlier, the early period encompasses Bonhoeffer's first two major works, Sanctorum Communio and Act and Being. Each of these works was completed as part of his academic theological career. Given the success (or lack thereof) of his later academic works (such as Creation and Fall), these two works could be seen as embodying his greatest academic achievements. Given the importance of his 1931 "conversion" experience, however, for the rest of his life and engagement of theological and existential problems, the pre-1931 works should not be viewed as representing the high points of Bonhoeffer's overall theology.
The last stage of Bonhoeffer's career certainly includes the most tragic and dramatically poignant moments of his life. Nevertheless, the texts available from this period are both of an unsystematic or fragmentary nature. Ethics was never completed, and despite the diligence of its later codifiers, should not be viewed as a systematic whole or with the same credulity as a completed, systematic work. And as noted above, Letters and Papers from Prison is by its very nature a collection of unsystematic and intimately personal reactions to Bonhoeffer 's tenuous political situation.
These observations are not intended to relegate the earlier and later eras of Bonhoeffer's life to the dustbin of theological importance, but rather to place them appropriately within a context of relative primacy. Just as the later unsystematic fragmentary works should not dominate the interpretation of his earlier works, so should his early, pre-1931 works not tyrannize his later, more theologically and existentially mature works.
The conclusion reached by such methodological concerns leaves us with the middle period of Bonhoeffer 's life from 1931 to 1939 as most important, in terms of his activity within the church and in terms of his theological productivity. This period encompasses the transition from academic to pastor, from man on the government payroll to ecclesiastical outlaw.
Indeed, it is only by a return to the sources from each period of Bonhoeffer's work that we can realistically endeavor to overcome the "domestication" that Haynes decries so rightly. Slane pertinently observes, "A person such as Bonhoeffer, endowed with both pedigree and abundant natural gifts, is easy to use and misuse. We can make of him a moral exemplar, a model of piety, a model of impiety, an intellectual juggernaut, and more."67 We must strive to resist this "wax nose" syndrome, with each interpreter modeling Bonhoeffer after his or her own image. One commentator has observed within the context of the appropriation of another major Christian theologian for use in various projects and programs that "where there is text, there is hope."68 Thanks to the appearance of the Dietrich Bonhoeffer Works in English, we have the texts, and therefore we have hope for overcoming our own programmatic, theological, and historical biases.
Cite this article
Jordan J. Ballor, "Bonhoeffer in America", Christian Scholar's Review, 47:4 , 465-482
Footnotes