Witness: Lessons from Elie Wiesel's Classroom
Published by
Houghton Mifflin Harcourt
in
2018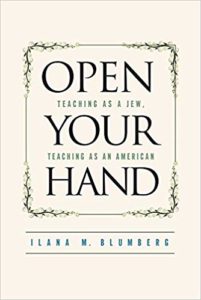 Open Your Hand: Teaching as a Jew, Teaching as an American
Published by
Rutgers University Press
in
2018
The Year of Our Lord 1943: Christian Humanism in an Age of Crisis
Published by
Oxford University Press
in
2018
The Life of Imagination: Revealing and Making the World
Published by
Columbia University Press
in
2018
Mark A. Peters is professor of music and director of the Center for Teaching and the Good Life at Trinity Christian College. He is president of the Society for Christian Scholarship in Music and book review co-editor for Christian Scholar's Review.
Whatever you learn, remember: the learning must make you more, not less, human.—Elie Wiesel (quoted in Burger, 26)
What is the point of education? While it is tempting to say this question is especially pressing in our present day, I am convinced that the question has long been a pressing one and will continue to be so. For those of us spending our lives investing in students in the context of higher education, I believe it is a question with which we should regularly be challenging ourselves, our colleagues, and our institutions. What is the point of education? In this review essay, I discuss four recent books that I believe can help us consider that the best answer to this question is "to be more human." Not to acquire knowledge, not to get a good job, not to learn skills, not to gain experience, not to gain information, not to achieve financial stability, not to further a field of inquiry. But to be more fully human, in all that entails, and to help others do the same.1
Ariel Burger's Witness: Lessons from Elie Wiesel's Classroom and Ilana M. Blumberg's Open Your Hand: Teaching as a Jew, Teaching as an American are both written within the context of higher education in the United States and both explicitly attest that the goal of education is a deeper humanness for students and professors alike. The richness of what both books have to offer may be summed up in Wiesel's words, "it is beautiful to make the world more human" (quoted in Burger, 133), and in Blumberg's statement, "But the questions of how to be a person in the world … find us no matter where we live or where we try to hide" (Blumberg, 165).
Alan Jacobs's The Year of Our Lord 1943: Christian Humanism in an Age of Crisis takes as its topic Christian humanism as expressed during World War II by leading intellectuals W. H. Auden, T. S. Eliot, C. S. Lewis, Jacques Maritain, and Simone Weil. It addresses the question of what it means to be human, and especially how one lives as a Christian in a time of crisis. It likewise emphasizes the role of education in relation to these questions. Jacobs writes: "And the question of 'how the coming generation is to live' [Dietrich Bonhoeffer] cannot be extricated from another one: how should the coming generation be educated?" (Jacobs, 36).
Finally, Jennifer Anna Gosetti-Ferencei's The Life of Imagination: Revealing and Making the World helps us consider how we might think differently about approaches to teaching and learning and about the university. Gosetti-Ferencei offers an understanding of the imagination as a "transformative power" that allows us to understand both the world and the myriad possible ways we might reshape it (Gosetti-Ferencei, 2). I argue that just such an imagination, this faculty that is shared by each person, should inspire us to engage an approach to teaching and learning that encourages us and our students to be more human.
Each of these authors presents different perspectives on the idea of "being human" and "becoming more human." Ariel Burger and Ilana Blumberg approach these concepts from a deeply religious perspective within Judaism, while applying them to the context of a large research university in the United States (Boston University and Michigan State University respectively). Alan Jacobs presents historical perspectives on being human from Christian thinkers writing and speaking in the year 1943, in light of an anticipated victory by Allied forces in World War II. Finally, Jennifer Anna Gosetti-Ferencei considers the nature and evolution of one particular element of being human, the imagination. Taken together, these four books encourage us to teach toward helping students to more fully understand and live into what it means to be human.
"To Make the World More Human"
Elie Wiesel: Holocaust survivor, author of Night, human rights activist, adviser to world leaders, and winner of the Nobel Peace Prize. But, as Ariel Burger attests in Witness: Lessons from Elie Wiesel's Classroom, Wiesel was first and foremost an educator. He saw teaching "as the core of his life's mission … his writing as an extension of this role, and his activism as its public face" (1). Wiesel began teaching at City College of New York in 1972, and in 1976 moved to Boston University, where he taught for the next 34 years. Burger was Wiesel's student at Boston University, then served there as his teaching assistant for five years while pursuing his doctorate. In Witness, Burger interweaves different layers of memoir, including his own personal interactions with Wiesel, his observations of Wiesel and his students in the classroom, and his connections with Wiesel's students. The memoir spans the time from Burger's first meeting with Wiesel to Wiesel's death and beyond.
Burger attests to the remarkable nature of Wiesel's approach to education:
It was academically rigorous, yet welcomed students' searches for personal meaning. It was rooted in classical intellectual and literary traditions, yet spoke directly to the most contemporary concerns. It took place in a secular university but comfortably employed religious and theological language. It was, in short, a rare thing: a humanities education designed to produce morally responsible, sensitive, justice-seeking humanists. (xii)
Witness is crucial for any teacher who believes that what we teach is students, not a subject, that our goal is the formation of humans, not the transmission of information. Burger states: "When moral education works, students investigate and embrace new ways of thinking, learn new habits of questioning, and, ultimately, find a deeper sense of common humanity" (32).
Each of the book's seven chapters addresses one factor in what Wiesel considered an education that forms students to become more, not less, human. Chapter 1, "Memory," provides guidance on how to listen to the stories of others and then to retell stories in a way that leads to redemption (see 21). In chapter 2, "Otherness," Burger explains Wiesel's perspective that each of us as humans is a stranger to each other and that it is our calling to listen deeply in order to understand each other person. Chapter 3, "Faith and Doubt," is largely focused on Burger's own struggles with faith and the affirmation that questioning God and the world is a deeply human response.
In chapter 4, "Madness and Rebellion," Burger affirms the art of protest, of speaking and acting against all that is wrong in the world. To be deeply human is to denounce evil and to affirm the good. This perspective leads, then, to chapter 5, "Activism." Burger quotes Wiesel as stating: "To be human is to share a common origin. And if we share a common origin, our destinies are entwined. … Anyone who is suffering, anyone who is threatened becomes your responsibility. … [R]ecognizing our shared humanity is a good beginning" (148). In chapter 6, "Beyond Words," Burger explicates Wiesel's perspective on the visual arts and music and on silence as taking us past words: "When the world loses its ethical compass, it needs beauty to recalibrate. When words fail, what is left to us but to sing?" (222). Finally, chapter 7, "Witness," recapitulates Wiesel's call to memory introduced in chapter 1, a memory that makes a difference in the world. In the remainder of this section, I explore just two of these seven chapters, with the hope that this brief introduction encourages readers to engage the whole book.
In chapter 2, "Otherness," Burger focuses on Wiesel's conception of the symbiotic relationship among teachers and students, positioning students as necessary contributors to the shared educational project, not as passive recipients. Burger attests that an education that makes more human is one in which students grow in their capacity to respect and listen to others. He cites Wiesel addressing his students: "As much as you will learn from me, I will learn from you" (43). Burger shows how Wiesel valued each student's distinctive viewpoint, while urging and modeling a posture of attentive listening grounded in mutual respect. This valuing of students' perspectives and inviting their participation was not just a pedagogical technique, it was a fundamental truth. Wiesel "believed that every student, every person, by virtue of being human, had a voice—a distinctive truth" (44).
Burger demonstrates how such a perspective was manifested in Wiesel's promotion of difference, diversity, and otherness as keys to education (50-56): "It is the otherness of the other that fascinates me. … What can I learn from him? What does he see that I do not, cannot?" (51). Wiesel attested that such a recognition of difference, of otherness, was necessary, that each of us must recognize that every other person in the world is a stranger to us (55). He opposed a kind of tolerance based on the denial of difference:
Wiesel taught the very opposite approach. Rather than seeing the other as familiar, see the familiar as other, as if you haven't seen that person before. … [A]lways see the other anew, with a sense of surprise and an inability to take the other for granted. (55-56)
Chapter 4, "Madness and Rebellion," explains another facet of Wiesel's project of teaching toward a deeper understanding of being human. Burger explains Wiesel's conception of a "mystical madness," which Wiesel described as "an obsession with humanity, with redemption, with the union of people, with the messianic element in human life." He continues: "One must be mad to believe that we can make the world better, that we can save humanity, or even a single life. It is unreasonable, irrational. But I am for that madness" (114). For Wiesel, to educate students to be more human is to teach them to speak out against evil, to not mindlessly conform to the status quo, to recognize what's wrong with the world and work to change it. Fundamentally, "to be human is to ask questions":
The fanatic believes he has all the answers, and he has no questions. I have only questions, so I am their enemy. Questions can save us from the certainties that lead to fanaticism. To be human is to ask questions, to ask why, to inquire, to interrogate each situation in a search for the truth, the truth of how we must act. (123)
Wiesel sought to educate students to live into their shared humanity by refusing to accept the world as it is and by embracing the world as it should be. Throughout Witness, we very much hear Burger's perspective as Elie Wiesel's student. In the book's Postscript, Burger concludes by affirming that each of us can likewise live and learn and teach as Wiesel's student. He summarizes Wiesel's approach to education, an education that affirms our shared humanity, thus:
Being a student of Elie Wiesel means being yourself and cultivating your humanity, your sensitivity to others, in every moment.
It means noticing people at risk of invisibility, the ones without power or access, who also have stories to tell.
It means always learning, thinking higher and feeling deeper, always challenging yourself to dive into the great texts, stories, and ideas in search of wisdom.
It means asking questions and being comfortable not knowing all the answers, avoiding the temptation of premature resolution of complex issues. It means embracing mystery and knowing that we don't always have to tie everything up neatly.
It means knowing that you do not have to choose between your particular identity and your concern for all people, realizing that you can speak up for your tribe as well as for others, that the particular and the universal can be mutually reinforcing.
It means celebrating friendship, making friends with others who are searching too.
Most of all, it means remembering the past and understanding the link between past and future. It means choosing to care about others' lives, their suffering and their joy. It means becoming a witness.
Wiesel clearly saw the formation of students as his fundamental task as an educator. In his classroom, he opened himself and his students to hear many voices, trained students to listen deeply, heard his students' stories, and modeled a way of living in the world that respected each other person. For Wiesel, an education that makes more human is one that recognizes and affirms the shared humanity of each person in the world and each person's value within that shared humanity.
"What Matters Most"
Ilana M. Blumberg shares with Wiesel and Burger an approach to education in which the formation of students as human persons takes priority over subject matter. In Open Your Hand: Teaching as a Jew, Teaching as an American, Blumberg unfolds her "understanding that what matters most is not what I am teaching but who I am teaching" (153). Open Your Hand shares with Witness a focus on teaching and learning as human and humanizing endeavors. Like Burger, Blumberg weaves together memoir with reflections on education and pedagogy and their meanings within a broader societal and cultural context.
Open Your Hand is a continuation of Blumberg's first memoir, Houses of Study: A Jewish Woman among Books (Lincoln: University of Nebraska Press, 2007). In it, Blumberg traces her educational journey from her earliest schooling in her home and in Jewish schools through her year of study in Israel and then graduate schooling that culminated in her Ph.D. in English from the University of Pennsylvania. She concludes with her early years as a faculty member in English at Michigan State University. While Houses of Study focused on Blumberg's relationship with learning as a student, Open Your Hand focuses on her relationship with learning as a teacher. Blumberg interweaves her perspectives on, and experiences as, a K-1 teacher at a small Jewish school in New York City, Beit Rabban (1992-1994), a professor of English at Michigan State University (2004-2013, but focused on the year 2011), and a volunteer poetry instructor at a high-need middle school in Michigan identified as "Smith" (2012). She concludes with her transition to her current position as senior lecturer in English literature and director of the Shaindy Rudoff Graduate Program in Creative Writing at Bar-Ilan University in Tel Aviv, Israel.
Blumberg identifies the context for Open Your Hand as a crisis in the fifteenth year of her university teaching career. This crisis left her questioning her understanding of education, her motivation for teaching, her pedagogical approach, and the relationship between her faith as an observant Jew and her place in the secular academy. It was precipitated by a recognition that her students at Michigan State did not share her fundamental perspective on education:
Simply put, I had been teaching with the belief that there was no meaningful education, whatever the immediate content, without ethics and that the deepest purpose of teaching and studying, particularly the humanities, was not self-advancement or personal pleasure, but the transformation of a world in urgent need of intelligent, sustained care. (3)
Blumberg discovered, however, that her students did not share this perspective: "The great majority expressed no need to 'give back,' to share, or to consider their advantages or the disadvantages of others not represented in our classroom" (3).
Open Your Hand traces Blumberg's wrestling with the fundamental questions this crisis raised for her, questions of what education means, what its purpose is, and if it should—or even can—be expected to motivate students to act for a larger good. In the following passage, Blumberg summarizes the key questions she came to realize and probe in relation to a college education:
But what did it ask of its students in return? Did it encourage students to reflect on their good fortune at being the recipients of such an education? Did it address the incessant, recurrent problem of life: choice making? Did it set them up to think about how they made their choices? To refine and reconsider what needs to be thought about when one makes a choice? Did it ask students to recognize the moral dimension of life? To consider that life is in and of itself a moral ground, with moral decisions arising all the time?
How was it possible that considerations of this sort had come to be marginal to what we thought of as education? How could we reshape knowledge—in the humanities, at least—as a kind of responsibility, becoming more specific, better honed, and better defined as the knowledge itself improved? How could we connect liberated, disciplined, intense thinking with the lives we chose to lead? (145)
Blumberg's questions resonate deeply with Wiesel's conception of a moral education, one founded on inquiring into the kind of persons we seek for our students to become.
Blumberg's answers are ones that Christian scholars and professors should both identify with and learn from. Blumberg summarizes what she came to see more clearly as a distinguishing feature of her approach to educating, that of helping students come to see themselves in moral relation to others (5, see also 39-51). We return then to "what matters most": not what we are teaching, but who we are teaching. We must "know what sort of person [we] want to help shape and what sort of society [we] would like to help build" (26). I see one of the primary gifts of Open Your Hand as Blumberg's expression of deep commitment to the teaching and shaping of human beings who look beyond themselves—to other human beings in the classroom, to the human beings (past or present, anywhere in the world) who have given us our course content, and to human beings outside the classroom at both the individual and the societal level.
What if, Blumberg asks, "your education has reflected to you a respect for all human beings that is acted out in the everyday life of your classroom"? She continues with her vision of the end goal of this kind of educating:
And always, always, there is the reality that the learning one does in school exceeds school; it concerns the world beyond the classroom. …
These assumptions and the practices they give rise to are the infrastructure of learning, that is, the "building" and "home" of the kind of learning that might improve our world. This is the kind of learning that might help shape a human being who, we have reason to hope, will look beyond him- or herself. (56-57)
While I have sought to highlight here Blumberg's primary contributions and perspectives, I do not want to close this section without naming some of her other key concepts. These are ideas she mentions briefly, sometimes almost in passing, but that are valuable reminders for our pedagogy:
To help students see the human person behind the text they are reading (71-72). Blumberg here explains some of her practices for introducing students to the real persons with whom they are engaging through their reading and study.
To recognize the importance of classroom space and how it is prepared and shaped (22-24). Blumberg marks her first encounter with Beit Rabban as something "rare and invaluable": "the classroom announced itself as a place built with great care, imagination, and aspiration" (23).
To embrace and live into the sanctity of time, to feel time as a "sense of energy, obligation, and opportunity" (94).
To see the connections between the classroom and the world beyond the class-room (34-38). This includes the world each student brings with them into the classroom, the particular learning community of which the class is a part, and the broader community in which this learning community is embedded, as well as the generous consideration of how these three are part of the far-flung, yet deeply connected, human community of all times and places.

Ilana Blumberg invites us into a consideration of education that probes the inescapable questions of how to be a person in the world: "of how to recognize the suffering of others and do what one can to assuage it, of how to teach compassion and justice, of how to fight bigotry and racism, of how to limit violence, of how to vote and speak and write, of how to refuse to accept what should not be accepted, of how to assess personal risk and balance our fear with courage" (165).
"In an Age of Crisis"
Ilana Blumberg affirms that we are educating today in a time of crisis. Blumberg explains her own crisis, that her students did not share with her the belief that education should contribute to the good of the world and not just to each individual student's personal progress. This perspective frames the present essay's larger question, that of the ultimate goal of education. Each of the four authors under consideration addresses this question in a different way, but it is Blumberg and Jacobs who particularly see it in light of crisis, a still-open but decisive turning point.
In The Year of Our Lord 1943, Alan Jacobs probes a particular crisis in human history. He offers 1943 as a time at which the Allied forces began to see the possibility of victory and at which intellectuals in the West turned concertedly to think about life after World War II. Jacobs frames his narrative around three prevailing questions of the era: 1) How do we live in light of such a war? 2) How do we live after such a war? and 3) How should we educate the next generation in light of, and after, such a crisis?
Jacobs focuses on five Christian intellectuals and their activity in the year 1943: W. H. Auden, T. S. Eliot, C. S. Lewis, Jacques Maritain, and Simone Weil. Jacobs's fundamental, and perhaps even surprising, thesis is that, "In a time of unprecedented total war, these thinkers concerned themselves primarily with a renewal of Christian thought and practice, especially in the schools of the Western world" (xii). And they did so because they "believed that they had a responsibility to set a direction not just for churches but for the whole of society" (xi). How should we educate in times of crisis? Jacobs suggests that we can look to Auden, Eliot, Lewis, Maritain, and Weil for possibilities.
In his preface, Jacobs describes how a wide array of authors shared a "convic- tion that the world had gone astray because its people had been poorly educated, and if the total destruction of the human world were to be averted, new ways of educating had to be found" (xiv). The five thinkers who are the focus of this book shared a common response: "They thought it possible—and necessary—to restore Christianity to a central, if not the dominant, role in the shaping of Western societies" (xv). Jacobs goes on to explain the perspective of these five scholars: "How might an increasingly secularized and religiously indifferent populace be educated and formed in Christian beliefs and practices? And what role might people like them—poets, novelists, philosophers, thinkers, but not professional theologians or pastors—play in the education of their fellow citizens of the West?" (xvii). Auden, Eliot, Lewis, Maritain, and Weil believed that education was fundamentally for something, in particular for exploring a "model of Christian humane learning as a force for social renewal" (51).
In addressing The Year of Our Lord 1943 in this review essay, I am not attempting to represent the book fully, but rather to focus on the relationship Jacobs sees between Christian humanism and education. Jacobs states of the book's five protagonists:
All of them believe that, to borrow once again Mark Greif's useful phrase, that they are living in "the age of the crisis of Man," and that that crisis can only be resolved by the restoration of the specifically Christian understanding of the human being as such. All of them would have endorsed, generally speaking, though perhaps not without slight amendment, John Milton's great statement in "On Education," which he in turn had derived from the early Christian humanists: "The end then of learning is to repair the ruins of our first parents by regaining to know aright, and out of that knowledge to love him, to imitate him, to be like him, as we may the nearest by possessing our souls of true virtue, which being united to the heavenly grace of faith makes up the highest perfection." And they also share the conviction that this restoration will not be accomplished only, or even primarily, through theology as such, but also and more effectively through philosophy, literature, and the arts. (50)
Like Blumberg, the thinkers Jacobs considers believed that education should always be for the common good, should always reach beyond the classroom to affect the way persons live both individually and in society. Unlike Blumberg, they believed that Christianity provided the particular worldview that best equipped students to engage education and society.
Jacobs's further point is even more significant for those educating already from a Christian perspective: Christian humanism is not an enterprise undertaken primarily by theologians, but rather grounded in philosophy and the arts. As I wrote in my description of religious humanism in U2 and the Religious Impulse: Take Me Higher:
Religious humanism is a way of thinking about the world that values faith, but does not seek to present a comprehensive system of belief. … [It] is a way of thinking that is expressed in art rather than argument, and, as such, reflects deep respect for imagination, creativity, beauty, subtlety, paradox, mystery, and wonder.2
To emphasize the point once more, Auden, Eliot, Lewis, Maritain, and Weil were poets, literary authors, and philosophers, not theologians.
Within the context of this essay, we can see a clear connection with Elie Wiesel and Ilana Blumberg, both professors of literature with deep religious commitments who pursued education as a humanizing endeavor. Jacobs explains the humanizing nature of education as accepting "the necessity of giving, before anything else, a proper account of personhood, and to understand oneself as bound as fully as anyone else by the account one gives" (56). He further traces the kind of humanness these five thinkers were seeking as fully embodied (77), in relationship with God (91), and entirely dependent on grace (98). Jacobs quotes Maritain: "To say that a man is a person is to say that in the depth of his being he is more a whole than a part and more independent than servile. It is the mystery of our nature which religious thought designates when it says that the person is the image of God" (quoted 125).
Such a view of personhood provides the starting point for Jacobs's key chapter, chapter 6, "The Year of Our Lord 1943." In it, he traces the activities and scholarly work of the five protagonists in the central year the book addresses. This chapter is also the one that most explicitly addresses the project of education. Jacobs begins chapter 6 with Maritain, the senior scholar of those considered. Maritain recognized that the task of education is not the transmission of knowledge, but rather the forming of persons: "The prime goal of education is the conquest of internal and spiritual freedom to be achieved by the individual person, or, in other words, his liberation through knowledge and wisdom, good will, and love" (Maritain, quoted 126). Jacobs then presents C. S. Lewis's That Hideous Strength as explicating the logical conclusion of an education that fails to address moral formation (131-142).
The chapter continues with W. H. Auden's commitment to a vocation-based education grounded in a democratic society (142-148). Jacobs focuses on a talk Auden gave on January 15, 1943, entitled "Vocation and Society," in which he presents a clear distinction between those students who desire genuine wisdom and those who only want to be successful (academically, socially, and economically). Auden identifies vocation as a calling from within and argues that those concerned with education should consider "that our first problem is what, if anything, [we can] do to make a sense of vocation the normal instead of the exceptional thing" (quoted 146).
While Auden was focusing on the intersections among education, vocation, and democracy, T. S. Eliot was writing a series of essays that he published under the title "Notes toward the Definition of Culture" (which appeared as a book of the same title in 1948). Jacobs highlights how Eliot argues for the essential relationship between religion and culture and even goes as far as to state, "Culture may even be described simply as that which makes life worth living" (quoted 149).
Jacobs continues chapter 6 with a sizable section on Simone Weil's The Need for Roots that culminates in a discussion of Weil's perspectives on education (155-166). Weil called for an education that trains the affections, writing, "To show what is beneficial, what is obligatory, what is good—that is the task of education. Education concerns itself with the motives for effective action" (quoted 164). Jacobs concludes this section with a rather dismissive treatment of one of Weil's ideas that I personally find to be captivating and compelling: "The true definition of science is this: the study of the beauty of the world" (quoted 166). Such an approach was in keeping with Weil's conception that education should be grounded in eternal truths (165-166), but Jacobs passes over this in just a couple sentences. Where, he asks, were the institutions that would affirm such a perspective? Where might we find such a perspective other than in the "odd peculiar individual like Weil herself?" (166). But should we, I ask with Lithuanian-Polish poet Czesław Miłosz (also probing the depths of beauty), "discredit the idea for its modest origins?"3 I want to affirm such a beautiful and beauty-seeking definition of science, even though it was stated by a single person, Weil, and not taken up by the institutions of her time.
After spending so much time—in the book as a whole and in chapter 6 in particular—exploring perspectives on education and its relation to religion, culture, and society, Jacobs concludes The Year of our Lord 1943 with a turn to Jacques Ellul in an Afterword that I read as unnecessarily despairing. Jacobs endorses Ellul's analysis of education after the end of World War II as being primarily in the service of "technical tasks" (200) within technocratic Western democracies characterized as "materially triumphant," but "spiritually vanquished" (199). Jacobs essentially argues that the work of Auden, Eliot, Lewis, Maritain, and Weil was too little, too late. He states that they accurately diagnosed the problems of society and education, but could not alter their course: "In some ways the opportune time, the kairos moment for Christian cultural renewal, had passed. When the clocks were reset to Stunde Null, it was technique that proved adequate to the challenge" (205).
And this is where Jacobs ends: "the technological society" was triumphant; a brilliant and engaged band of Christian thinkers could not stem its tide; the renewal of Christian humanism was ultimately unsustainable in light of larger societal forces in the Western world; and education turned its focus to the training of technicians rather than the forming of human persons. Perhaps this conclusion is fitting for the year 1945. And perhaps I am reading too much into Jacobs, wanting him to connect that time more explicitly with our present. I can see, with Ellul, that the crisis of 1943 settled on the side of training for technique rather than educating to be more human (200-201) and that the prevailing trend in higher education today is a training of "technicians" (see 202).
But I also look with hope on the shared work of what I would characterize as a humanist education, particularly in the context of a Christian liberal arts college: we are forming persons, and these persons are making a difference in their homes, churches, workplaces, and communities. We may not be changing the course of society from a technocratic to a more humane one. But it is my hope and belief and prayer that we and our students are learning to become more human through our shared learning. Like Wiesel and Burger and Blumberg, I believe that education can and should be essentially humanizing, and that such education makes a difference in our students' lives, in our own lives, and in the world.
"Revealing and Making the World"
How then should we educate? I return to Blumberg, Open Your Hand: "Teaching is a kind of fighting: the refusal to accept things as they are" (171). Jennifer Anna Gosetti-Ferencei thinks of imagination the same way in The Life of Imagination: Revealing and Making the World. She explains that the imagination allows us both to understand and transform reality and attests that that imagination is essential for all of human life and flourishing (256). She argues that the imagination equips us to consider "how things could or might otherwise be" (254). Gosetti-Ferencei demonstrates throughout The Life of Imagination that we as humans "are irrepressible imaginers" (Jean-Paul Sartre, quoted 195) and probes imagination as a fundamental element of being human (see especially chapter 2, "Evolving Imagination"). She broadens our understanding of the imagination, its groundedness in our experience of the world, and its potential for affecting reality.
Gosetti-Ferencei summarizes the work of the imagination in the conclusion to chapter 3: "As our means of engaging possibility, imagination does not merely allow us to escape reality but also makes us aware of possible transformations of the reality close to us" (116). The Life of Imagination focuses on this mode of the imagination, which Gosetti-Ferencei identifies as "hypothetical and counterfactual thinking" and defines in this way: "Through imagination we are able to entertain ideas that contradict reality or are considered in a conditional mode" (40). Gosetti-Ferencei summarizes the possibilities for such an imagination (40-41):
It allows us to shift perspective from reality to consider an alternative.
It enables our existential speculations about the future and past.
It allows us to wonder about alternatives to our own reality.
It yields opportunities for imagining perspectives other than our own, for taking up the perspective of another.
Such opportunities can lead to social empathy or identification with others in social and moral life.

Gosetti-Ferencei further explains that the imagination is productive whenever we use it to contrive or construct something new. Such creation grows out of existing realities, but exceeds them in a significant way (31).
While The Life of Imagination does not specifically address education or pedagogy, I believe taking up its claims is urgent for those who wish to educate our students to be more human in this often dehumanizing world. Gosetti-Ferencei provides valuable context and perspective on the ways Wiesel, Burger, Blumberg, Auden, Eliot, Lewis, Maritain, and Weil imagined different approaches to education growing out of their visions of the kinds of persons they wanted to help the next generation to become. The Life of Imagination can help us see the importance of the imagination in relation to our work of educating: "The imagination as understood here is relevant to any human experience in which we reflect on the world and accordingly transform it, whether in thought alone, in material, iconic, or linguistic expression, or in embodied action" (10).
The imagination generates alternatives: things need not be as they are. This is a gift for all of life and certainly for our teaching. It is imagination that allows us to envision our teaching otherwise, envision our students otherwise, envision our classroom otherwise, envision our goals and content and roles as educators otherwise. What if I choose a different text for my class to engage on this day? What if I reconceive the order in which we engage topics over the course of the semester? How will the class be different if I arrange the room in this way? What can I do with this course that is not working—how can I change mid-stream? And fundamentally, to return to Wiesel and Burger and Blumberg, what kind of persons do I desire to form?
Gosetti-Ferencei further states in her epilogue: "As an inextricable dimension of human thinking, imagination's multifactorial engagement is essential for understanding ourselves, our forms of life, and our future possibilities" (254). I hear this as affirming an approach to education focused on the formation of human persons. I also hear the plural here as key, as reaffirming Blumberg's belief that education should always point us beyond our individual self to a consideration of and service to others, society, and the world.
In short, I hope this introduction to The Life of Imagination urges us as educators to consider possibilities, to not just follow those approaches to pedagogy or course design we inherited or have ourselves long practiced but rather seek ever renewed ways to best teach our present students. An appreciation for, and application of, imagination can transform our pedagogy and our classrooms, allowing us to both understand reality and consider possibilities for engaging it anew (69).
Learning to Be More Human
While written in different modes and addressing different topics, each of the four books reviewed in this essay is deeply applicable to education, particularly for those seeking to educate whole persons in relation to God, neighbor, the world, and self. Each serves as a witness to the power of education to change lives, to make more human, to make a difference in the world, to promote justice, to imagine the world—and our classrooms—differently, and to notice and make beauty.
Of the four books, I recommend Burger's Witness as the most necessary. I believe it is required reading for anyone who believes that they are teaching students first and subject matter second. It would serve well as a shared reading for faculty, staff, and administration at a faith-based institution as a way to reflect on, and even re-imagine, our shared calling to educate and how we live into that calling. For readers who resonate with Witness, I recommend continuing on to Blumberg's Open Your Hand. Blumberg's personal account of her struggles as an educator and her process of working through them are easily accessible for those of us sharing such struggles today. Her account gives readers both wisdom and hope as we continue to strive for a humanizing learning in the face of a broader culture focused on education toward the limited goal of a job.
Both Jacobs's The Year of Our Lord 1943 and Gosetti-Ferencei's The Life of Imagination are excellent books in their own rights, but perhaps less broadly applicable for CSR readers. As I hope I have shown in this essay, each one complements and expands on the project of a humanizing education advocated by Wiesel, Burger, and Blumberg and may fruitfully be read in this regard. The Year of Our Lord 1943 will be of particular interest for those seeking a historical perspective on Christian humanism and its relation to education or for those interested in engaging further one or more of the thinkers featured therein. While The Life of Imagination may not be required reading for everyone, the perspectives it contains on the imagination are absolutely necessary. We must be able to imagine education, and indeed our world, otherwise.
What is the point of education? To be more fully human, in all that entails. To help others do the same. And to remember and claim these words from Elie Wiesel: "Whatever you learn, remember: the learning must make you more, not less, human," and, "It is beautiful to make the world more human" (quoted in Burger, 26, 133). In all that we do as Christian scholar-teachers, may we teach, and may we learn, to be more human.
Cite this article
Mark A. Peters, "Learning to Be More Human— A Review Essay", Christian Scholar's Review, 49:2 , 189-202
Footnotes
Throughout this essay, my perspective focuses on my own context, that of a faculty member at a Christian liberal arts college. But of course our projects of teaching and learning are likewise shared by every person involved in any way with an educational institution. These books and their perspectives on education will be of value for staff members and administrators as much as they will be for faculty. I am thankful for my own context at Trinity Christian College. Thank you in particular to my colleagues who gave feedback on earlier drafts of this essay: Aron Reppmann, Lauren Visser, Timothy Hendrickson, Aaron Kuecker, and Bill Van Groningen.
Mark A. Peters, "U2 and the Art of Being Human," in U2 and the Religious Impulse: Take Me Higher, ed. Scott Calhoun, Bloomsbury Studies in Religion and Popular Music (London: Bloomsbury, 2018), 188.